To be honest, apart from the direct neighbourhood in our housing estate I mostly remember from my living environment as a child that what you can see in the title's picture foreground: green fields as we had on the other side of the road next to our home. A child's eye simply is much closer to the ground than to the heaven… 🙂
However, that what you can see – or a least guess – in the blurry background of that picture is what really characterizes my homeland: coal mines.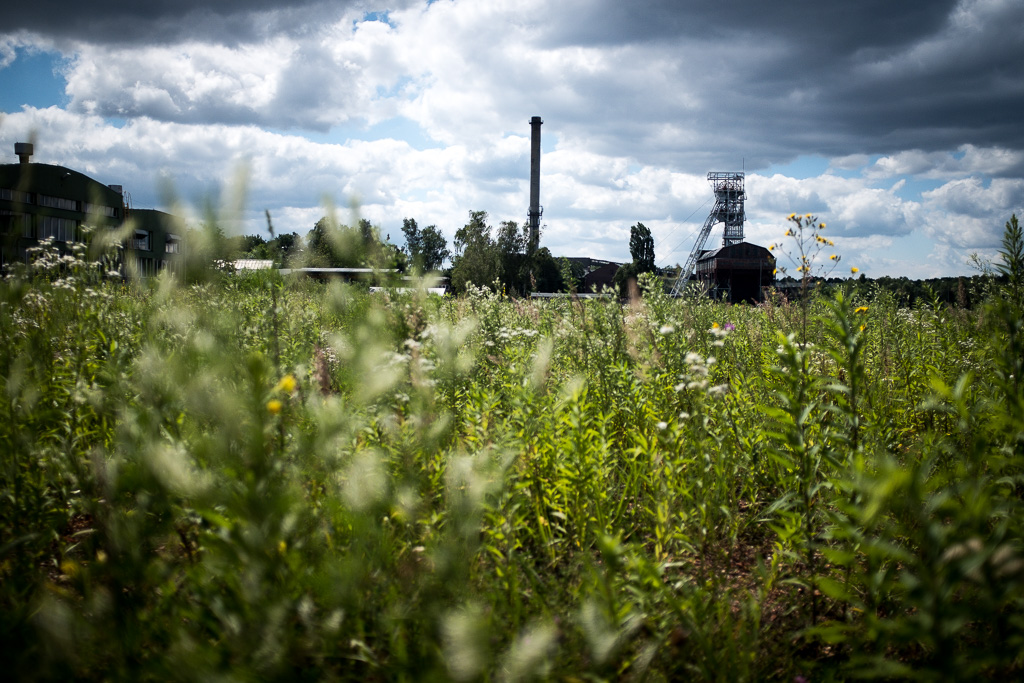 And speaking of homeland: I don't know if I really would call it homeland since I was not even seven years old when my family emigrated to Germany. Howsoever, it's the place where I was born and where I spend the first years of my life. This definitely makes it a very special place for me. By the way, the fact that the coal mine you can see above – known as Kopalnia Węgla Kamiennego Powstańców Śląskich – is the one where my father had worked for almost 18 years does not reduce the emotional dimension of my visit here. 😉
Welcome to Upper Silesia, the land of coal mines, steel mills, heavy industry and spoil heaps – and nevertheless a region with a lot of green spots. Welcome to an area the local people are quite rooted and attached to. And welcome to an area where being a worker – especially being a coal miner – still fills the people with a certain amount of pride. Needless to say that I know little to nothing about all this from my memories or experiences, but only from what my parents and others have told me. All the more important it is for me to see this area now almost 40 years later through the eyes of an adult.
Upper Silesia is in many respects highly interesting with regard to the European history. In terms of industrial history it's one of the European core zones of industrialisation in general, together with e.g. the English Midlands, the Ruhr Area in Germany, the Czech Ostrava basin, Belgian Wallonia or the northern Spanish ore and coalfield areas. With regard to the general history it is sufficient to point out that alone the changes in belonging to Germany and Poland or the region's significance in World War II are their very own stories. But that's not the point here…
What I was not prepared for was the appearance of the industrial cores of this region – especially in the workers' housing estates in the direct neighbourhood of still operating ironworks or coking plants. I know the Ruhr area relatively well but yesterday I suddenly understood that I definitely don't know it as it was in the 50th, 60th or maybe still in the 70th of the last century. I found myself stepped back in time and grasped for the first time how it might have felt to work or live midst in an inhuman industrialisation.
I would not describe myself as particularly naive or unworldly and I have seen worse things in the world for sure. However, I simply have not expected to see something like this in Middle Europe in the year 2017. The spatial proximity between residential and industrial areas going along with obviously obsolete industrial plants of times thought long gone result in what I have seen there.
As I said before, I know that coal miners and steel workers often are proud of what they are doing – and this ist OK. I have the deepest – really the very deepest – respect for all workers who are going down the mines or who are working directly in front of the blast furnace. And I really show understanding for why they are doing this: It's their job and they have to support their families. Period. However, my understanding for a society that allows or even supports such living and working conditions within the European Union – just to make more profit or to get cheaper energy – really starts to crumble.
If small children have to play in that environment and have to breath that air every day I was sick of just after a few hours – smelling of coal and being polluted with fine dust far beyond even the least strict recommended limits – then something really goes wrong.


That's a part I definitely do not connect with my childhood memories. I still remember that my sister did not want to go back any more – as she wanted before – when she visited her old homeland for the first time a few years after our emigration. She told me how shocked she was that all her white clothes were grey after just one day of wearing. Being still a child I did not really understand the overall consequences of this. Ok, then the clothes were dirty, so what? Mine were dirty every day as well… 😉
Today I know that the black in the white wash might stand for honest work. But honestly, this should not stay for good work or good living conditions. I really would like to see this kind of honest work to disappear – not only in Upper Silesia, but everywhere in the world of course. Thereby, I do not care whether other people have a different opinion here or still want to hold on the coal because of what reasons ever.
I really would like to see more of that what this region offers as well and what I remember from my childhood: green and flourishing landscapes. In the one way or another… because this region definitely can be as loveable as others. But transformation does not start if it is not being started…