As you know, this remark is already associated to another city and another historic incident, but we are in the year 2017, this issue is way more current and this saying simply matches perfectly to it.
It's the first time I have visited Belfast and I really was very curious and even a bit excited about it – in a positive sense. I knew just little about the city apart from what I was told by friends and – of course – apart from all what I have seen about The Troubles on TV in the 80th and 90th – but that's a long time ago and for sure things should have changed since the Good Friday Agreement of 1998. Nevertheless, I did not really know what to expect. Would it be that grey and somehow sad looking city I still have in mind precisely because of these television pictures?
To anticipate this first: It is not in most parts. Needless to say that you can find those grey spots in almost every bigger city – the more so as Belfast was an important industrial city and still is to some extent (which makes it even more interesting, by the way).


What you will see is a modern and busy city in transition with many interesting and very often surprisingly beautiful and lovely places. Since my photography and interests lie elsewhere, just google for example the terms City Hall, Victoria University, Ormeau Park or Botanic Gardens to have an idea what to expect from a more touristic standpoint. From a cultural point of view you also will not be disappointed due to a couple of interesting museums and a growing music and arts scene as well as due to many exceptional restaurants. It's great and it really was another reason for that I enjoyed my stay in Belfast. I easily could have stayed there even longer than just the four days I did.
However, my primary focus for sure was on the history of The Troubles, especially on the question what one still can see and feel there after almost 20 years of peace in Northern Ireland. What I have experienced there was a constant up and down – factually and emotionally – since you still can see the traces of The Troubles in so many places in Belfast.
At this point I would like to make another remark: If you are interested, just go there and visit Belfast. You can do this without any concerns or fear or whatever. The city is pretty save of course and I never – really never – felt insecure or uncomfortable at all. And I was walking alone through almost every politically charged quarter of Belfast – widely visible equipped with a camera. If you are not sure about a place, just ask the locals. They are really very friendly and helpful.
But to return to the current topic, on the one hand that's because of an intended (and in my opinion understandable) preservation of some historical signs like the murals that are of course important for the tourism as well – simply think of all the walking or Black Cab tours to those places.
These murals of Belfast – as well as those of Derry/Londonderry of course – became very famous and they are a key and important guides for a stranger to understand the history and the conflict's core. Since they are widely scattered across the city you have to take your time (and you have to be good in walking) or you simply book one of these taxi tours. It's definitely worth it!
This website might be very helpful if you decide to find and to explore them on your own as I did.


One really interesting and impressive thing is the thematic breadth of these murals. You will find almost everything from certain memories of the two world wars – often linked to an odd local patriotism – over the politically motivated and heroic murals of The Troubles to much more actual messages for peace and a better understanding.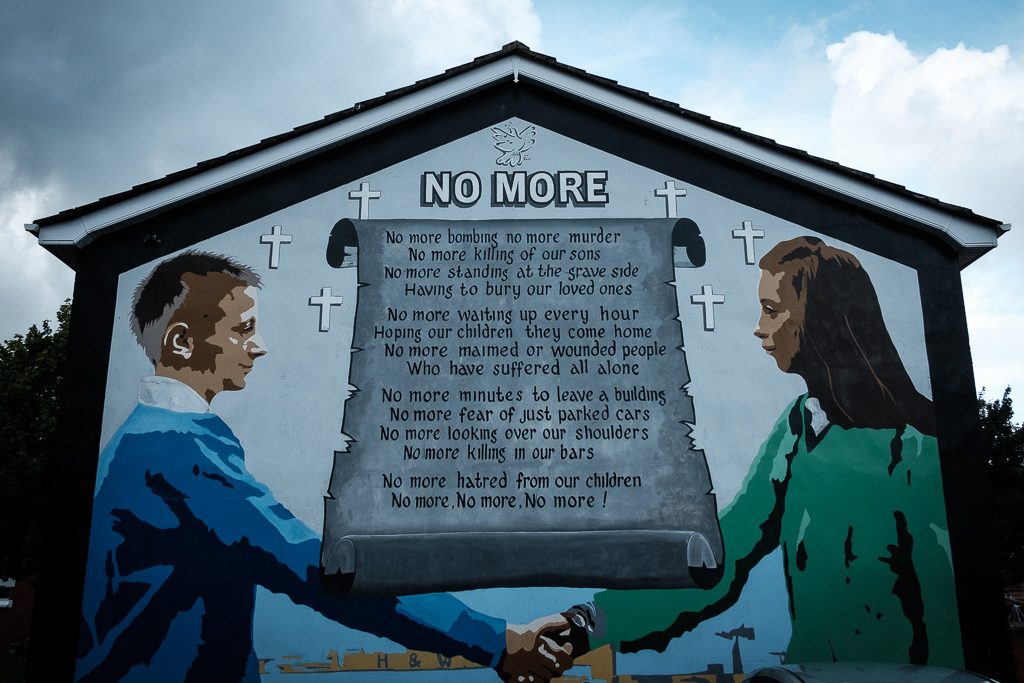 Recently, in some places one even can observe that former 'hardliner' murals – like the famous Loyalist so-called Mona Lisa mural – have been razed to the ground and now are replaced by something better. 🙂
Besides all that very political stuff you also might find some places with many other forms of interesting street art – sometimes even those that show the very nice Irish sense of humour.
On the other hand it cannot be overlooked that a political agreement – even if it is a good and important one – will not overcome all the existing problems and tensions overnight. A conflict that have been latently present for more than 400 years now and especially the almost 30 years of open violence between 1969 and 1998 have a high cost for the region and the city. And it still divides a least some parts of the population clearly visible and noticeable – even though fortunately much more open today than in the worst periods.




Though the real concrete walls are now beginning to crack and to open, the walls in the heads are often stronger and more resistant. The individual boroughs are still far away from a mixing of population, the majority of the children still goes to separate schools and especially during the so-called 'Marching Season' in July many streets in the boroughs look a little bit unusual – at least for a German visitor.


Then you immediately – sometimes completely surprising and just around the next corner – fall down back into the past and you will find yourself surrounded by the signs of exclusion, division and sometimes even of hate.


For myself, those places were the most oppressive and sad ones – partly because of my surprise and the supposed 'normality' of these places. As a stranger you don't know exactly where the (in the map for sure invisible) 'borders' of the different 'communities' are and while you are walking through a housing estate, a park or a playground area, you might find yourself suddenly standing in front of one of the countless walls or fences.
Only after a close and detailed look at the map you realise then by and by which roads are connected to each other and which are not… and you start to look at the other smaller walls and fences in a new light. As I said before, that' s really oppressive…


Moreover it has yet to be seen what the Brexit – if really coming – will do to all this. I have heard so far many discussions about the economy and some questions about how to handle the issue with the border. Officially there will be a new external border of the EU between Ireland and Northern Ireland where there is no (visible) border at all at the moment. However, I am less concerned about all this than about how this will influence the people and the political sentiment in Northern Ireland. The last thing Belfast and the country needs are more and even new reasons for separation…
To change all this and to find together a deeper understanding and the willingness to accommodate each other is needed for sure. I very much doubt that statements and actions like the one below will be helpful here…
Anyway, this is an important part of the city and it really is something Europe and the Europeans should look at and learn from it. There are few places in Europe where you are confronted with the ugly face of destructive nationalism that close and direct than in Belfast.
On the other hand you also can see there how the things have changed for the better just by overcoming at least the worst and violent confrontations. Just go into the city centre and look for all the armoured police vehicles and for the inspections of all cars' underbodies with mirrors to detect bombs you might remember from the television pictures of the 80th and 90th. You simply won't find them for sure… I think I have seen two police cars in the four days of my stay. Instead you can sit there in a café or restaurant of the new pedestrian zone, enjoy a peaceful life or just go shopping as in every other nice city elsewhere in Europe. 🙂
I really hope to be able to see this attitude in the Shankill or Falls Road areas as well when I visit Belfast the next time…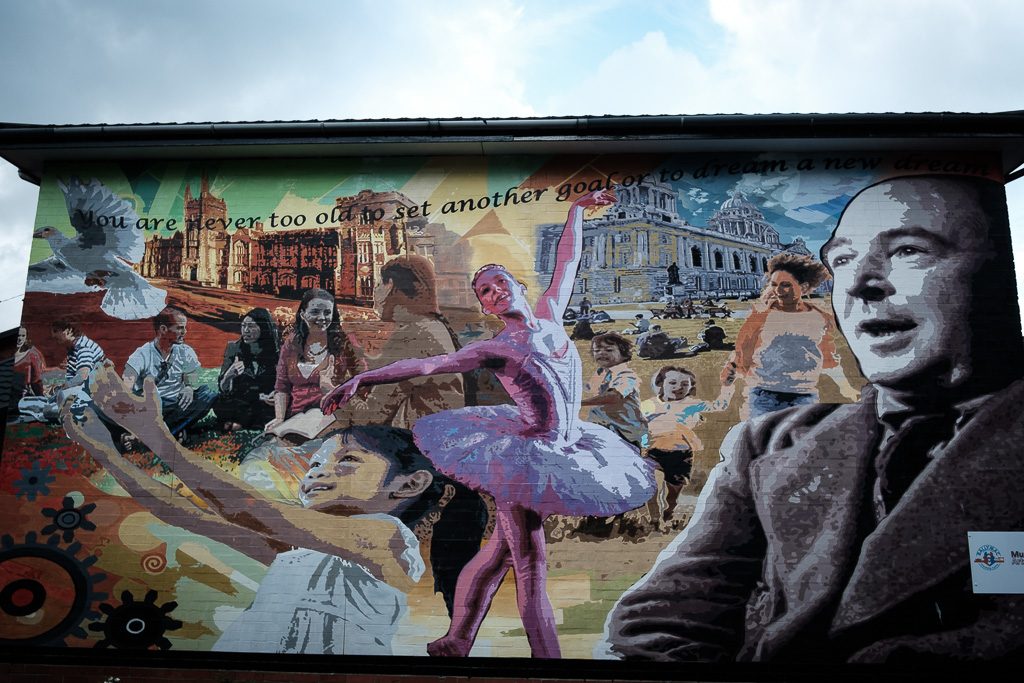 … and maybe the walls will be broken down then as well. Apart from some parts serving as a memorial and a tourist stop for the Black Cab tours for sure… 😉