A tongue-in-cheek approach to a serious issue. Mostly.
I admit I did have troubles finding a title for this post preferably avoiding all forms of puns around the omnipresent word 'Brexit'. While reflecting this, suddenly a more than fifty-year old film scene occurred to me. In that scene in the movie 'Murder Ahoy!' the wonderful Margret Rutherford alias Miss Marple almost bellows out the sometimes as unofficial British national anthem considered patriotic song 'Rule, Britannia!', both in her own inimitable manner and with such a level of enthusiasm that even as a child I understood the importance of national pride for the British. Thus, this could definitely be a write about pride, self-image, identity and coping with the past. However, we have seen and read a lot of those articles these days and therefore let's start the story the other way around and take a winking look from outside on Great Britain. Just to confirm the British to stay in the European Union because Europe needs you for sure…
What have the British ever done for us?
First of all, there is the important point with the food: where would food-culture in the EU stuck today without the British influence? Just think of all the fantastic curries, chutneys and dals! 😉 I'm not going as far as to say the menus in the European restaurants would be pretty poor, but at least in the home countries of Sauerkraut, French fries or Frikandel it would be that to be honest. If history of colonialism ever had something like a positive side – difficult enough to express this in that way, however – then it might be the (late) insight of the existence of diversity, not only in the kitchen. And Ok, to be fair we should not forget Fish and Chips.
As speaking of diversity: where else in a European country do we witness globalization and the melting of different ethnicity more than in Great Britain, especially in one of the big cities? Despite the fact that of course there were and are conflicts, the British for sure can share their rich knowledge and experience with some other – and inexperienced in these areas – parts of Europe in how to handle diversity – because diversity and migration will increase whether we like it or not. To be prepared for the 21st century includes having a strategy to deal with the challenges of integration and intercultural tolerance – let's set our sights towards the island and learn from their successes and failures. By the way, what a perfect reason to visit London once again…
What else should Europe learn from Britain? What about good taste and culture? A point Italians surely can ignore is a fortiori very important for us Germans. We sometimes really, really need someone who shows the world that even the most horrid examples of bad taste – demonstrated as the worlds visitation with white socks in sandals and short trousers – can be easily outperformed, as Magnum photographer Martin Parr shows with a mixture of a fantastic eye and a due portion of this wonderful British humour. Thank you for that! And we do not want to forget that you alone taught the entire continent that the possibility to walk topless through the cities begins at 12 °C – oh, sorry… at 53.6 °F in your world. 😉
Last but not least, I would like to mention something really important for the well-being of mankind and the cultural progress by itself: the cream tea. I'm not kidding here! From the very first time I spent a few days in Great Britain I've fallen in love with this likewise tasty and likeable afternoon tea light meal, consisting of tea taken with a combination of scones, clotted cream, and jam. For the unlikely event of a Brexit we definitely should introduce this almost religious ritual as a mandatory part of European culture – in memoriam of our former member state in the EU, so to speak.
Some serious words at the end.
Britain first? Hardly ever! This name of a British right-wing party embodies as well the electoral slogan for the advocates of a Brexit – at least to some extent. I do not want to blame the British for this by any means – you could transfer these two words into German, French, Dutch, Polish… and would represent therewith a part of the actual political and societal reality in all these countries. However, the point is a different one. Despite the fact that – at least in my humble opinion – neither pure nationalism nor economic and military influence should be the relevant key factors in a future world any more, we Europeans should face a simple reality: we are not (or not any longer) the centre of the world! That's a fact that should go without saying actually. Maybe you will already struggle a little bit with finding Europe in the map below. Now try to find the United Kingdom there. You've got it? Hopefully yes… so sail with us, Britannia! 😉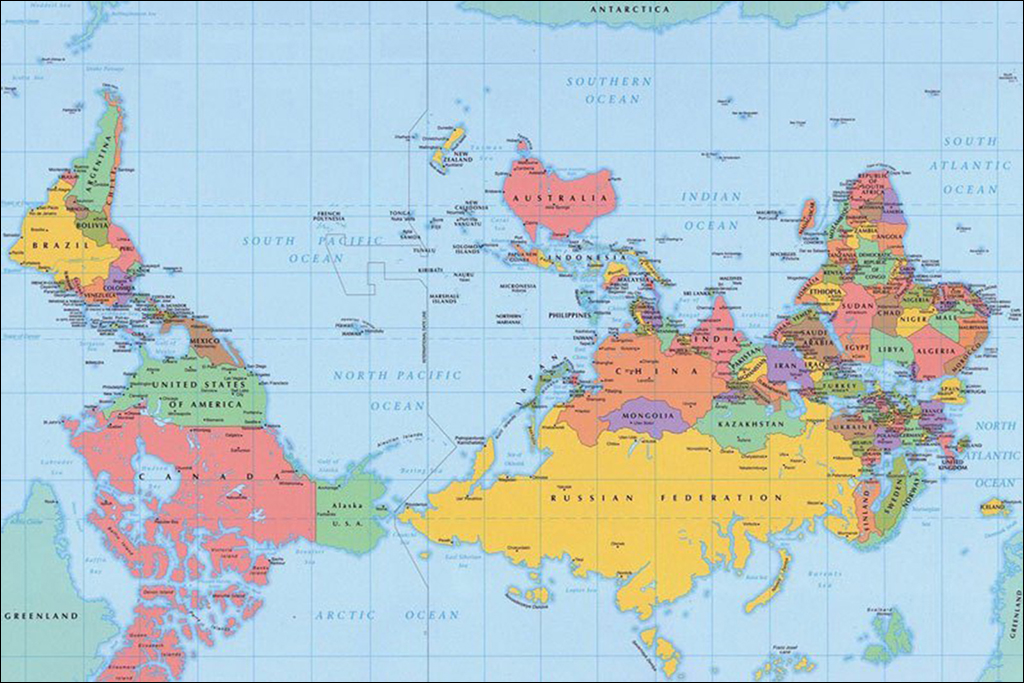 Postscriptum:
Dear Britons, just in case you're still not convinced… listen to one of your famous sons, member of the Royal Shakespeare Company, and don't leave the EU, we'd miss you! 😉